Polyamide (Glide) Coating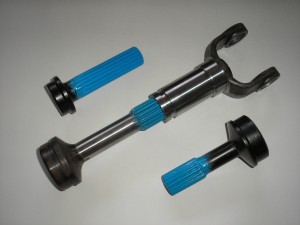 Coatec India supplies Glide coating systems for variety of applications.
Glide Coating is a generic name for Polyamide Coating.
It is a friction minimizing coating and offers resistance to galling.
Categories: Fluidized bed and Powder spray.
Applications like Gear Shifting Fork & Spline Shafts.
Process
The component is cleaned for all traces of oil and rust.
If necessary, it is sand / shot blasted or given zinc phosphate pre-treatment.
It is spray coated with an adhesive primer and baked.
The component is mounted on a PLC controlled dip coating system, which can be programmed for speed and different time intervals.
The coating equipment dips the component into the coating bath and holds it there for a preset time.
It then takes out the component and again holds it for a second preset time interval.
The component is again dipped for a second time to achieve proper coating thickness and subsequently cured.